Nice Try, Though
Posted: Wed, Mar 2, 2005
Sometimes a building style is so identified with its original business that it's hard to shake the association, even when the business is long gone. Here's our photo gallery of bad building conversions around Indianapolis. Let us know about the ones you've spotted around town...

This Indian Restaurant on east 38th Street doesn't disguise its former existence as a Pizza Hut very well.

Peggy's Restaurant can try all it wants, but it's no Lums Restaurant.

I'm not certain, but I think this Pawn shop used to be a Long John Silvers?

Woo hoo! Let's go to the Taco Bell Dentist!

Jen's theory that this lighting store might be a former Arthur Treacher's Fish and Chips is close, but I think it might not be the case after comparing the signs.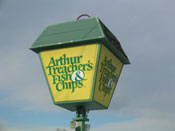 It's not really that obvious at first, but if you look at Rancho Grande Restaurant near 86th and Ditch, you can see it used to be a Chinese Restaurant

They tried adding some Asian design adornment to the windows, but it's pretty obvious that Tokyo Joe's started life as a Noble Roman's.

However, they do have a great "Lunh Buffet."

The Photo Mat at 86th and Ditch is now Joey's Produce. They should probably take down the digital services sign to make the complete transformation.

My doggy Spike goes with me on a trip to find more funny building conversions

This former Ponderosa on east Washington now serves up Chinese food

As does this one on 10th and Shadeland. Notice the nice Ponderosa landscape image still in place.

Indianapolis residents were devastated when the Roslyns Bakeries all over town closed, and even more upset when their classic "googie" style signs were converted to Cash and Go signs.

This Long John Silvers ended up being an auto service place.

The Blockbuster sign doesn't quite hide that this building used to be a Papa John's Restaurant.

I recognize the original building as a restaurant, but can't quite put a name to it. It wasn't a Napa Auto Parts, though. Was it a steakhouse?
TrackBacks
TrackBack URL for this entry:
http://www.indyscribe.com/cgi-bin/mt-tb.cgi/224
Guest Authors
Authors Emeriti
Recent Posts